Vulture Conservation Programme
International Vulture Awareness Day celebrated in the Nilgiris on 06/09/2014
The signature campaign was inaugurated at Smyrna Home, Ooty on 6.9.2014 at 10.30 P.M. Sixty students and staffs from Smyrna Home attended the campaign. The programme was inaugurated by Sr. Dr. Nirmala, Principal, Jayaraj Annbakiyam Womens College, Periyakulam of Tamilnadu.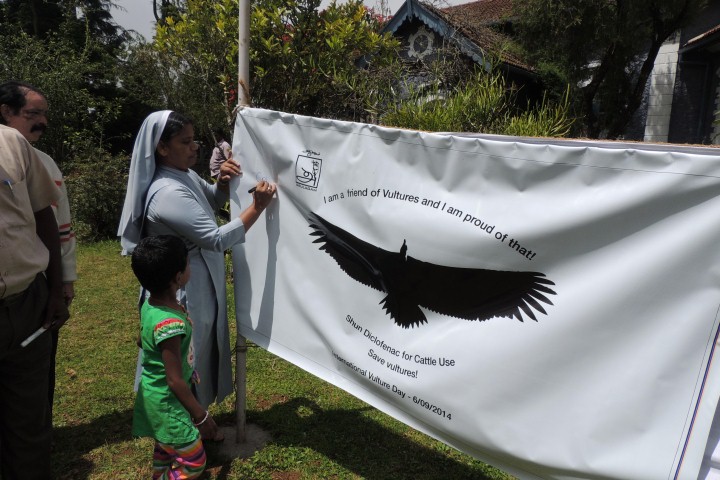 During her inaugural speech, she pointed out that animal and birds are facing great threat due to anthropogenic activities. She stressed the immediate steps needed to save Vultures and other species. 
Karthiga Rajkumar, President, Arulgam presided over the function while S.Bharadhidasan, Secretary, Arulagam addressed about Vultures and its importance among the gathering.  The students were interestingly participated and penned their signature on the 300 meter cotton cloth banner. Message 'I am friend of Vulture and I am proud of that" and Shun diclofenac and Save Vulture was written in the banner for getting signature.
Then the banner was shifted to Botanical Garden, Ooty for the participation of tourist. The signature banner was displayed in the main gate of the Botanical Garden. Audiences were curiously to know about the vulture and about the banned drug diclofenac.  Nearly 4000 tourists from various states of India have placed their signature in the banner and showed their solidarity to save Vultures.
The mass signature campaign conducted from dawn to dusk. The tourist asked questions on vultures. It was well replied by Arulagam team. . Interestingly an auto rickshaw driver voluntarily stopped his vehicle and penned their signature on the banner and showed his interest on Birds.
This Campaign was inaugurated by Mr.C.Bathirasamy, IFS, District Forest Officer, Nilgiri South Forest Division. The Nilgiris.
The programme was organized with the support of CEPF, SAVE and OBC. This event was coordinated by Arulagam team namely Karthiga Rajkumar, President, Mr.S.Bharathidasan,Secretary, Mr. R.Venkitachalam, Biologist, Mr.P.Arunagiri,Sociologist, Mr.C.Paraman, Field organizer and John Kennedy, Volunteer of Arulagam.